Defining Dyspraxia by KinderCloud
By dinamk on April 19, 2015 in Informative Blogs with No Comments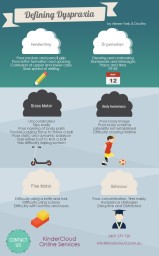 Defining Dyspraxia
By Aimee York, B.OccThy
Dyspraxia affects many children and can be devastating to parents and families to see throughout a child's development. It holds children back, especially in an academic setting, and without intervention, can lean to lowered self esteem, poor academic grades, poor social skills and some mood disorders such as depression and anxiety.
Occupational therapy and psychology-based therapies can assist a child that has symptoms of dyspraxia. Strategies can be implemented to help the child and family overcome these barriers to success. Dyspraxia has no impact on a child's intelligence or intellectual ability.
Dyspraxia can go unnoticed and un-diagnosed in a child that is simply 'clumsy' or 'uncoordinated' or 'not academic'. But this is not the case, and overlooking Dyspraxia will not help it to resolve itself. Intervention from a registered occupational therapist and/or psychologist or counselor can assist in the process of helping your child overcome Dyspraxia and be the best they can be.
Look over the infographic below to see if your child may have signs of dyspraxia. If you have any concerns, please call 0409 279 728 or email info@kindercloud.com.au.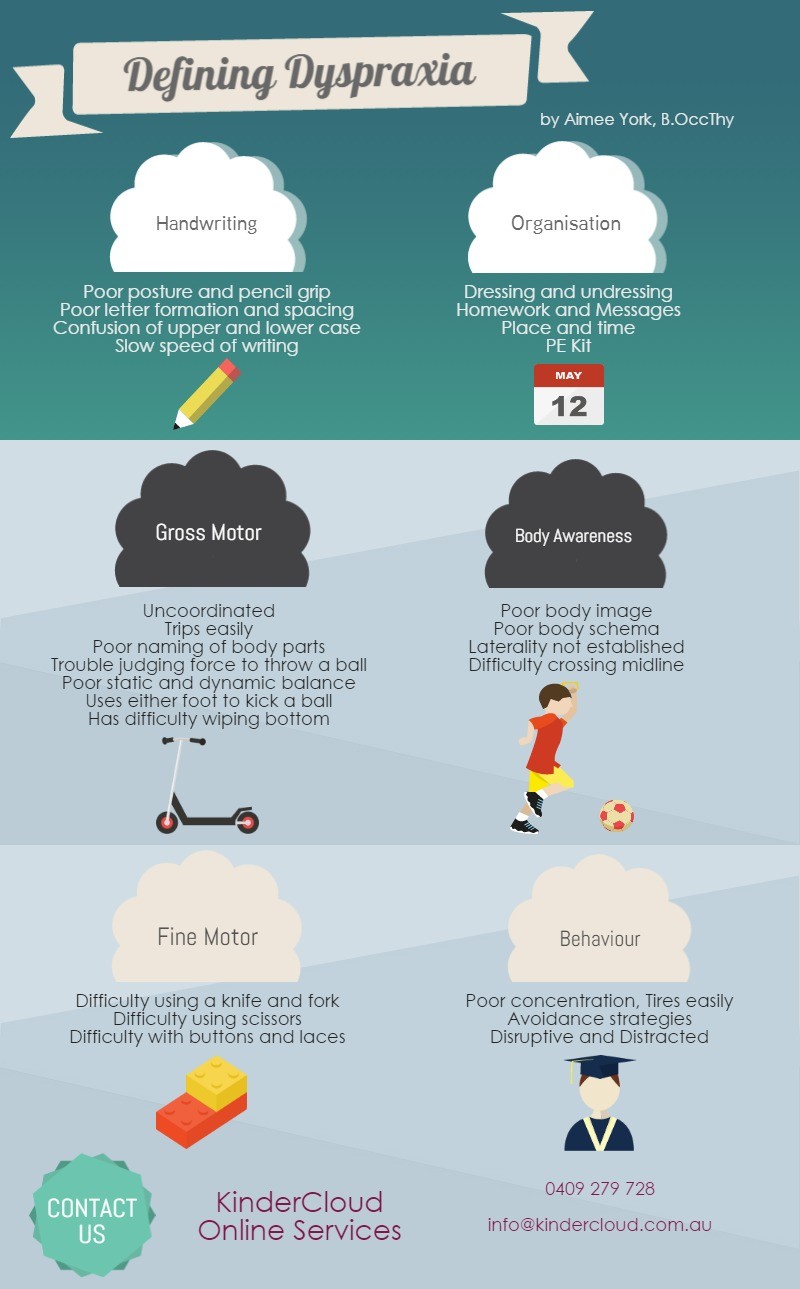 More Info About KinderCloud – (Australia Based)
For those unable to access main-stream allied health services due to geographical location, or those simply wishing to have the convenience of a quick, easy and efficient alternative to physical therapy, KinderCloud offers e-consultations over Skype.
Once you have filled out the New Patient Form, you will be contacted via email with an attached invoice, quoting the recommended amount of time required. Most initial e-consultations will run for 45 minutes. Once payment is cleared, a time slot for your e-consultation appointment can be booked.
For your convenience, payments can be made via PayPal.
What's Included?
• Personal, one-on-one Skype conversation with a registered Paediatric Occupational Therapist
• Formalised assessment, if required
• Follow-up email with attached personalised resources for you and your child
• Summary report of e-consult (upon request)
Featured App
Sentence Builder - Kindergarten, First Grade, Second Grade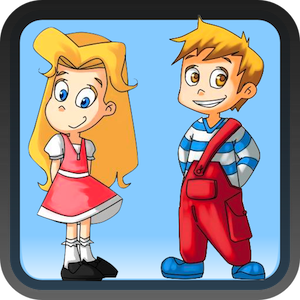 A fun new sentence builder app to learn about words, sentences, pronunciation, grammar, and punctuation.
The ONLY sentences app that can be fully customized with your own pictures, words and sentences.
We worked closely with teachers, parents and kids to design and test this app.
Read more
Latest App
Physical Science for Second Grade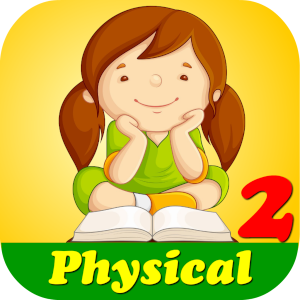 - The ONLY app that allows the users to CREATE their own stories, questions and add their own images.
- The ONLY app that READS the stories, comprehension questions and choices.
Reading Comprehension Physical Science for Second Grade has twenty stories about the physical science related young children's daily life. You can also create and add your own stories to the app.
Read more
© Copyright 2023. All rights reserved. Powered by AbiTalk.