Abitalk New Apps

"As parents, we understand how kids learn and what gets them excited.
As developers, we are able to channel that knowledge into Educational Games your kids will want to play."        
Abitalk's Apps


***** 5 star review from Fun Educational App – "Must Have Teaching App for Teachers and Parents"*****"Sentence Builder App is an incredible teaching tool and a Top Pick in educational apps created by the popular developer AbiTalk.Aimed at helping students learn to create grammatically correct sentences, this app gives students multiple levels of practice using various sentence structures. With over 250 built in sentence and a fully customizable 'create your own' section, the possibilities of this app are endless. "

$2.99


ABC Fruit Phonics is a fun game for young children to learn and practice phonics by cutting the different type of fruits to identify each word.Fruit Phonics is for children just beginning to read. The words all have short vowel sounds. More advanced children should try Vegetable Phonics with long vowel sounds and double vowels.

$2.99


Abitalk Phonics Long Vowels is a fun game for young children to learn and practice phonics by cutting the vegetables to identify each word.Fun Phonics Long Vowels is for children just beginning to read. The words all have long vowel sounds. We also have Fun Phonics Short Vowels app for children to learn short vowels sound words.

$2.99

Fun Math Facts is a fun and entertaining way for children to learn basic "math facts" of addition, subtraction, multiplication and division for number from zero to twelve. For each session, you can select the range of numbers and the operations (plus, minus, times and divide). Then you can choose from several entertaining activities, including keypad entry, balloon popping, or a 3D cube.

$2.99


This reading comprehension app has twenty stories about social studies. You can also create and add your own stories to the app.
Each story has about 300 words. Each story introduces new vocabulary and concepts, and is followed by a set of exercises that measure the student's comprehension. The exercises include multiple choice questions, true/false questions and matching exercises that ask the student to match words or concepts with their definition.

$2.99
 

The ONLY reading comprehension app that can be customized with your own content, questions and images.
This reading comprehension app has twenty stories about fifth grade science. You can also create and add your own stories to the app.
Each story has about 1000-2000 words. Each story introduces new vocabulary and concepts, and is followed by a set of exercises that measure the student's comprehension. The exercises include multiple choice questions, true/false questions and matching exercises that ask the student to match words or concepts with their definition.

$2.99


The ONLY Reading App that can be fully customized with your own reading material. This reading comprehension app has twenty stories about science. You can also create and add your own stories to the app.Each story has about 500 words. Each story introduces new vocabulary and concepts, and is followed by a set of exercises that measure the student's comprehension. The exercises include multiple choice questions, true/false questions and matching exercises that ask the student to match words or concepts with their definition.

$2.99
 

This app makes learning basic arithmetic fun! Your child can learn addition, subtraction, multiplication and division, by solving problems and then pick a right raindrop with the correct answer to make rain. The animated flower will appear after the rain to encourage the child. After each exercise, the animated rainbow appears on the screen and a little bird flies over the screen. There are a lot of animation and activities to keep children interested in the learning process.
To use the app, you select the desired arithmetic operations to be any combination of addition, subtraction, multiplication and/or division. Then you select a difficulty level, by setting the minimum and and maximum range of the operands.
As the student completes each exercise, the screen will automatically advance to the next exercise.

$1.99
Featured App
Sentence Builder - Kindergarten, First Grade, Second Grade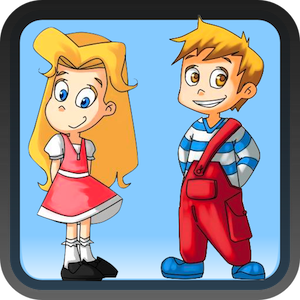 A fun new sentence builder app to learn about words, sentences, pronunciation, grammar, and punctuation.
The ONLY sentences app that can be fully customized with your own pictures, words and sentences.
We worked closely with teachers, parents and kids to design and test this app.
Read more
Latest App
Reading Comprehension for Kindergarten and First Grade

Can not believe kindergarten kids can read? Here is the app for our young readers. This FULLY CUSTOMIZABLE reading comprehension app has twenty stories about young children's daily life. You can also create and add your own stories to the app.
Each story has about 90 - 120 words. Each story introduces new vocabulary and concepts, and is followed by a set of exercises that measure the student's comprehension.
Read more
© Copyright 2015. All rights reserved. Powered by AbiTalk.